Intellectual property refers to a set of innovations and achievements of the mind and is divided into two categories: "industrial property", consisting of patents, trademarks, industrial designs and geographical indications, and "copyright", including literary and artistic works, such as novels, poetry and plays, films, music, paintings, photographs, sculptures and architectural…
Nowadays, as technologies become more sophisticated, companies are no longer don't have ability to develop innovative products and services easily. Hence, the use of the research results of others in a better way to innovate in product and technology has become important. In this regard, organizations and companies have considered the study and analysis of technology.
In any organization, progress depends on creativity and innovation at different departments and levels. But until creative knowledge and ideas are applied, they will not create real value or wealth for its beneficiaries. Thus, innovation process – implementing ideas and applying technologies in the form of products or services- is of utmost importance for organizations and individuals…
Nowadays, any development and progress in organizations depends on the correct and strategic training of the staff. Actually, staff training is considered as one of the main strategies to achieve the human capital of organizations. Training increases the efficiency of labor in the organization and also increases innovation and creativity in the organization.
Insight is the foundation of knowledge
Future Growth Opportunities, Commercialization Strategy, White Space Analysis, Market Forecast,
Cost Analysis, Competitive Analysis, and Risk Assessment;
Increase your organization's insight into deciding and choosing the right strategy

A technology tree (TechTree) is a branching diagram that can represent the relationships among various technology perspectives such as product taxonomy, technology taxonomy, and function taxonomy of technology in a specific technology area. A TechTree is a useful tool for supporting a decision making process to identify strategic core technologies in a given market environment and organization capabilities. Furthermore, it helps to define element technologies based on identified core technologies. Due to these advantages, TechTrees are important decision-making tools for technology planning, and are utilized in technology planning.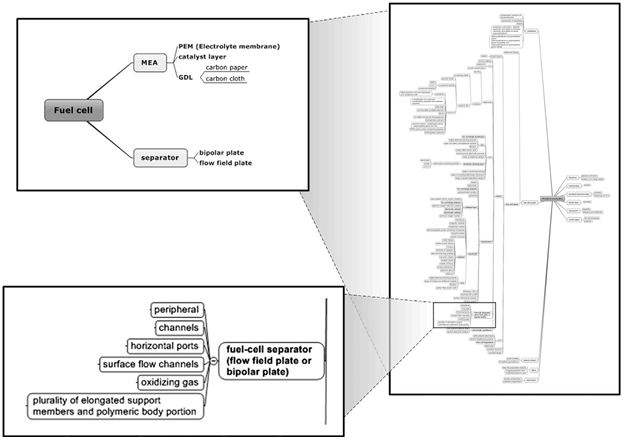 Risk, Time and Cost Reduction
Using various methods of open innovation and novel research and development procedures to reach the highest level of assurance in the shortest time to satisfy the clients' needs.
Research-industrial experiences
The analysis of several projects in different fields of technologies, research and development for companies and organizations and the commercial manufacturing of some industrial products.
The Specialized human resources
Providing a network of industrial researchers and specialists in different scientific and technological fields and resolving issues in the specialized departments.
Continuous and Goal-oriented training
Providing specialized trainings for the human resources to promote their knowledge and career skills.
Protecting intellectual property
Protecting the rights of technologist during the projects and signing juridical contracts to save the organizations' commercial secrets.
Sound and Advanced hardware
Providing the proper infrastructures in different scientific and technological areas and specialized laboratories.